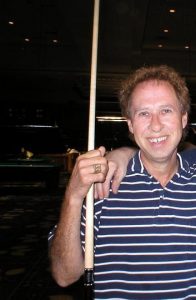 Name: Nick Varner
Born: 15th May 1948, 73 years now
Cue: Meucci 18.5 oz., 13mm shaft
Sponsor: Falcon Cues, Nick Edge
Biography
Nick Varner is a prominent American pool player born in Owensboro, Kentucky, on 15th May 1948. He attended Tell City high school for his education. Varner was inducted into Billiard American Congress in 1992. His father inspired him to play pool games by the time he was still young. After completing high school, he became more focused on the pool, and he managed to gain notoriety in the professional pool scene. This was after he won the 2 ACU-Intercollegiate Championships.
In 1988, Nick was declared the second man for winning over $100,000 in a price-winning competition involving 16 nine-ball events. This gave him a brand, "player of the year" in 1980 and 1989. Apart from being a pool player, he is an author, an exhibition player, a manufacturing representative, a pool room proprietor, and a video personality. He is still alive, and soon he will be celebrating his 74th birthday. Varner's star sign is Taurus, and the zodiac sign is element is Earth.
Net worth
The Forbes, Wikipedia, Google, and other online media platforms have come up with Nicks's net worth as; $3M and 5M, collected mainly from his earnings. Initially, he bragged about making more money from the business, but the estimation showed that the large sum he made was from playing pool. Currently, his net worth is pulling from $5-$10M. He's also earning from social media platforms since he is an actor. Let's narrow it down to his achievements.
Achievements
This player has achieved great wins since the time he started gaming. From 1969-1970, he won the ACUI Collegiate National Championship 1975; he championed at the Midwest Open 9 Ball, 1979, and he was the best in Rockford Tournament. In 1979 he was Lexington all-star tournament. In 1980, he won the World Straight Pool Championship, Kentucky Open 9 balls, BCA National 8 Ball Tournament, Illinois 9 Ball open, and Billiards digest players of the year.
In 1982 he also featured as a champion in various pool game occasions, including where he was branded as the Billiard Magazine plater of the year. In 1983 he topped in many games, mostly Tennessee State 9 Ball and national open nine balls. 1992 brought a lot of success to him; among the championships won, he won the international one-pocket championship, and it massively branded him as a legend and a superstar. He was the best all-around player; at one point, he won 7 world championships in 4 different pools comprising 9 Ball, 8 Balls, one pocket, and a Straight pool. In recent years, he represented the USA team at eight intervals at the Mosconi Cup as a team captain.
In a recent interview, he says he felt so great and honored for attaining the targets he had set for himself. In the 1980 incident where he won the world championship, he was so determined and confident that he would win, and his persuasiveness and willingness to learn and act made him achieve the scores.
Photo Attribution: The original uploader was RailbirdJAM at English Wikipedia., Public domain, via Wikimedia Commons